It was the third day of our trip, and we were set to depart Kota Kinabalu and check into The Sabah Tea Resort in Ranau, a sleepy 3-hour drive away. Sabah Tea Resort is located bang in the middle of a sprawling organic tea plantation. This tea estate is the largest organic tea estate on the island of Borneo and one of the largest in the world. As the bus trundled into the resort, my jaw dropped to the floor looking at that gorgeous view of Mt.Kinabalu.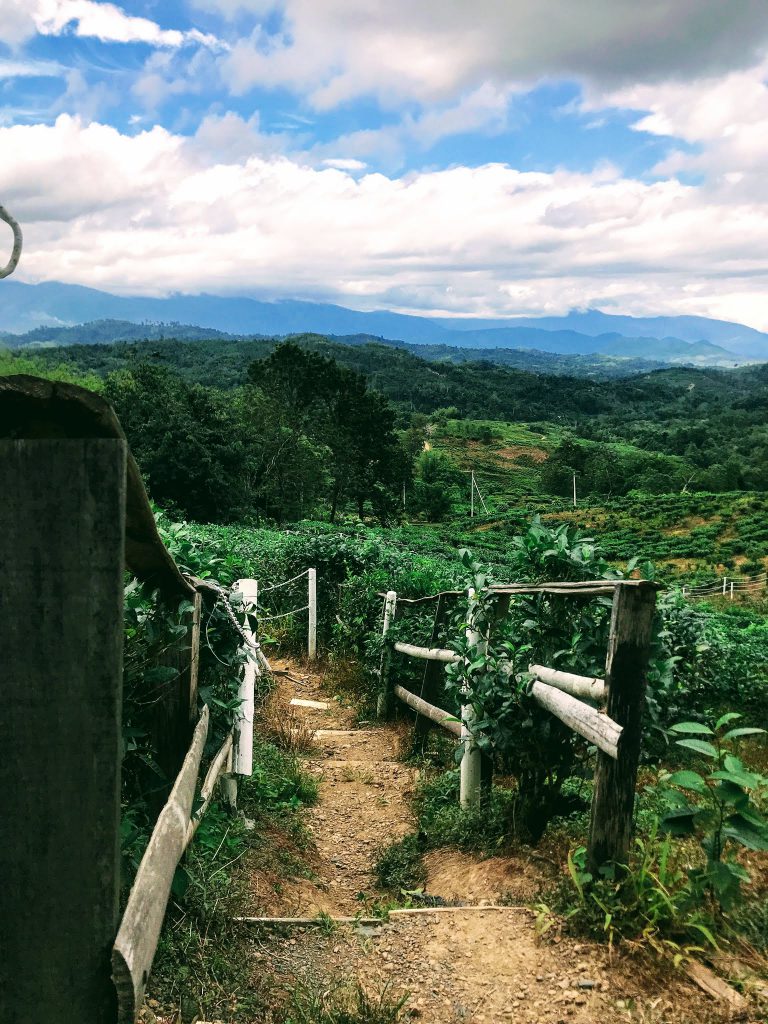 We were greeted by the lavish lunch spread at the Sabah Tea Restaurant. My whole group was famished, and we pounced on the food. The feast consisted of a chicken broth flavoured with tea, stir-fried beef, chicken, prawns, bean sprouts, noodles, and rice. The photo addicts of the group were occupied for hours together, such was the view.
At about 4.30 pm we went ahead and checked into our rooms. We were handed our keys and led to our Cottages, all named after British explorers who explored Sabah. Every little cottage could accommodate up to 3 people and had everything from a water heater to an LCD television and of course a kettle and tea.
We were scheduled to attend a tea processing demonstration at 5 pm. We gathered at the longhouse and met our guide. He set up a huge wok and a gas connection to show us how tea is processed. His deft movements in mixing the tea were extremely relaxing to watch. Once the session was done we took a calming walk in the evening drizzle into the tea gardens with our guide. We saw how tea was plucked and harvested, as it grew darker we trekked back to our Cottages.
We went down to the restaurant for an early dinner, dinner consisted of more variety of stir-fried foods all infused with tea, but the highlight for me was the matcha tea waffles. After dinner, we watched a game of football, Sabah's favorite sport accompanied by seaweed crackers and salted peanuts.
The next morning I woke up at 5 am so that I could see the sunrise, the rest of my group was up too. We walked down to a spot with apparently the best view of the sunrise. A few clicks later we made our way to the restaurant for breakfast.
After a filling breakfast paired with the tea we had made the previous evening, we were looking for ways to pass time till we set off to fulfill our itinerary. As we looked around and explored we found a frame that we could take pictures in, this frame was installed in such a way that Mt.Kinabalu would be in the background. We spent close to 2 hours just clicking photographs. Then finally at around 8 am we departed to complete our itinerary for the day.
My stay at Sabah Tea was indeed a 'tea'lightful experience. If you're a tea connoisseur you have met your 'matcha'.