Our planet is blessed with beautiful landscapes. From massive glaciers, staggering mountains, plains populated with wild animals, our planet is mesmerizing. Our natural environment has the power to move and inspire, encouraging people to travel to far-flung destinations just to catch a glimpse of Mother Nature in action. Though all of these amazing places cannot be listed, here are a few of the best.
Torres Del Paine, Chile
With its granite pillars, azure lakes, and steppes spotted with grazing guanacos, Torres del Paine is one of the most impressive sites in the entire Southern Hemisphere. It also happens to be an extremely popular destination for hikers. The ultra-ambitious can travel the Full Circuit—crossing the entire park—in nine days. This one of the most beautiful landscapes that you shouldn't miss.
Elephant Island, Antarctica
Elephant Island is an ice-covered mountainous island off the coast of Antarctica. Located in the outer reaches of the South Shetland Islands in the Southern Ocean, this is one of the beautiful landscapes that is famous as the desolate refuge of Ernest Shackleton and his crew in 1916. It is known that this British explorer and his crew of 28 men following the loss of his ship in the Weddell sea, reached the island exhausted after a harrowing ordeal of drifting on ice. Here you will be able to look at polar bears, marvel at the magnificent icebergs, and spot whales.
Dettifoss, Iceland
Having a flow estimated at between 200-500 cubic meters of water per second, Dettifoss is known to be the most powerful waterfalls in Europe. This natural wonder is surrounded by rocky cliffs and has a chilling drop on each side, making it an epitome of nature's untethered power. The best time to visit these majestic falls is June to September. Visit this one of the beautiful landscapes to marvel at the largest ice cap in Europe and take gorgeous pictures of the black sandy beaches. 
Scottish Highlands, Scotland
If you enjoy an autumn vacation the Scottish Highlands will make an ideal destination. Though it may be a tab bit cold, this beautiful landscape is a culturally distinct region. The highlands have a fascinating history and are overflowing with magnificent natural beauty and are blessed by nature's bounty. Scotland has hospitable and down-to-earth people which always a plus when it comes to travelling to a new country. Here you can enjoy the solitude of lonely yet beautiful landscapes, spot spectacular wildlife, and dine on superb seafood.
Grand Canyon, USA
Located in sunny Arizona, the Grand Canyon is one of the world's natural seven wonders.  The Colorado River and its tributaries have contributed to the Grand Canyon attaining a depth of over a mile, cutting its way through layer after layer of rock. Tucked within the Grand Canyon are an estimated 1,000 caves, and of those, 335 have been recorded. Even fewer have been mapped or inventoried. Today, only one cave is open to the public — the Cave of the Domes on Horseshoe Mesa.
Machu-Picchu, Peru
Machu Picchu is the most popular icon of the Inca world. Situated above the Urubamba Valley in Peru, Machu Picchu is often referred to as "The Lost City of the Incas" as it is a site of ancient Inca ruins. Perched above the majestic river Urubamba, it is one of the fewer pre-Columbian ruins found nearly intact. Machu-Picchu was voted as one of the new Seven Wonders of the World in the year 2007 and this is one of the beautiful landscapes that draw crowds throughout the year.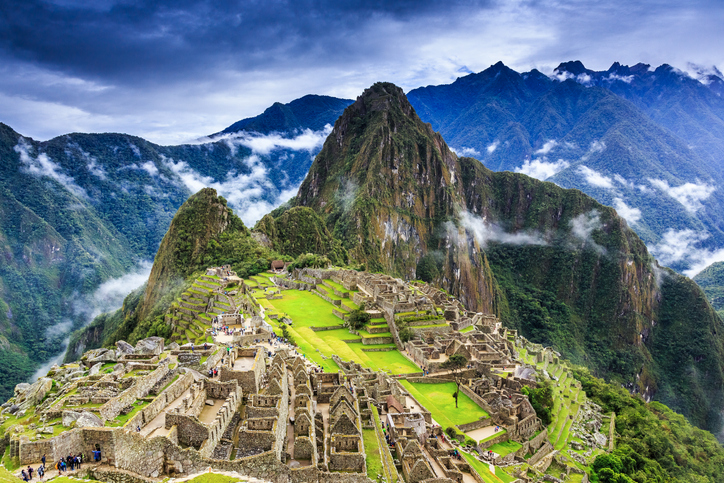 Peyto Lake, Canada
Named after Bill Peyto, an early trail guide Peyto lake is a glacier-fed lake in Banff National Park in the Canadian Rockies. During the summer, significant amounts of glacial rock flour flow into the lake from a nearby glacier, and these suspended rock particles are what give the lake a uniquely bright, turquoise color. Because of its bright color, photos of the lake often appear in illustrated books, and the area around the lake is a popular sightseeing spot for tourists. Here you can explore the popular resort town of Whistler, search for grizzly and black bears on a float trip at Blue River or soak in natural hot springs. 
Seljalandsfoss, Iceland
At 60 meters tall, Seljalandfoss is arguably one of the most breathtaking waterfalls. This iconic waterfall tumbles over a rocky scarp and into a deep green pool. There is a path that leads to behind the waterfall, making it an extraordinary destination for hikers. In this natural wonder, you can explore the ever-changing geographical wonderland of Iceland, trek along the sides of volcanoes and across a frozen glacier, and camp behind the mountains amongst a secluded campsite along the Laugavegur Trail.
Northern Lights, Various
The Northern Lights are among the most spectacular phenomena on earth, appearing only at high latitudes on nights from September to March. Lucky stargazers can witness anything from an ethereal green glow on the horizon to pulsating scarlet streaks across the sky. While visiting the Northern Lights make sure to explore Iceland's glaciers and waterfalls as well as living like a local in a charming farmhouse. 
Iguazu Falls, Argentina/ Brazil
Set near the 3-way border between Brazil, Argentina, and Paraguay, Iguazu Falls are set amidst tropical jungles. The falls are wider than the Victoria Falls and taller than the Niagara Falls and are a spectacle that needs to be visited to be believed. The fascinating thing about Iguazu is that it's a culmination of 275 falls which are arranged in a way that resembles a reversed letter "J". The Argentina–Brazil border runs through the Devil's Throat, which is the most spectacular of the lot which has 14 falls plunging more than 106 meters (350 feet). 
Puerto Natales, Chile
Located at the edge of Chile's Pampas, Puerto Natales sits on the shores of Seno Última Esperanza. This stunning location is surrounded by tall peaks and a gorgeous turquoise channel stretched across which are the remnants of a wooden pier. An interesting fact about Puerto Natales is that it's one of only eight pairs of cities in the world that has a near-exact city on the other side of the world—Ulan-Ude in Russia. 
Mother Nature's bounty is endless and a trip to any of these stunning places will lead to a memorable vacation. So, pack a bag and visit these awe-inspiring wonders. If you have already traveled to any of these beautiful landscapes, let us know of your experience in the comments below. 
Also Read: Dynasties, Civilisations And Landscapes: The Largest Countries In The World