Rivers, mountains, trees! Whenever I think of the wide terrains, silent ravines, sheltered waterways and lush green trees, I realize how magnificent it is to go run and lose yourself in nature.
What do you think about this nature-based therapy?
Calmly witnessing the beautiful balance and harmony of nature is just like an ointment in the wound of excessiveness in the material world.
Also read, 44 breathtaking natural events you have to see before you die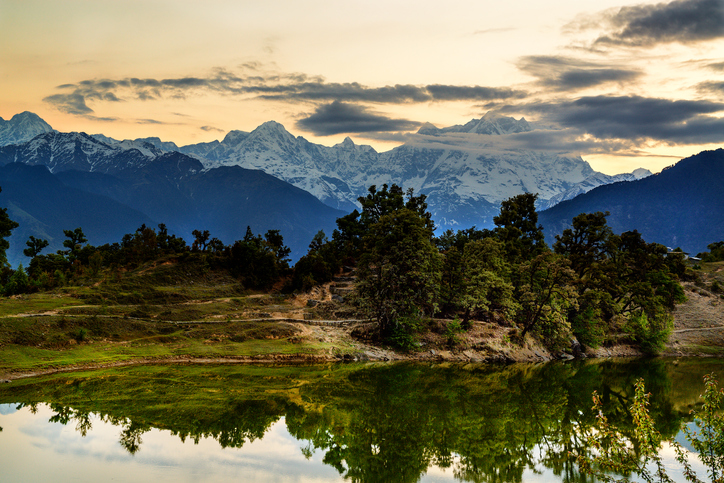 India is incredibly beautiful with lush green forests, beautiful lakes, royal mountain peaks, various patterns of grasslands, tropical beaches, and sun-drenched valleys. It has got a never-ending list of destinations which you should surely venture into and witness the true bliss of nature.
However, nowadays nobody dares to put down their daily clock and reflect at their bucket list. Running after the 9 to 5 schedule, it is sad that they've got ONLY a few deadlines to be won because no one really wants to lose! After a complete year of analysis at the workplace, I realized, it is better to lose on some days to win the longer races rather than run after the winning trophy every day and lose out on saving the best memories in our life.
By the end of this article, you would rather want to lose on some days visiting places, plan a trip, and maybe laugh at life in those heartbreaking moments because you will be standing right in front of your dream destination. Your new nature pals will welcome you with full zest rolling over your eyes, widening your lashes to all dimensions, messing up your hair. And you will totally forget that this was your sharp breakfast time because the perfect view of paradise will auto feed your starving soul.
That moment you won't even mind someone snatching a winning trophy from you. Have you ever been this kind to yourself?
Mentioned below are five beautiful and natural places in India which will help you lose hard enough to win at life.
This famous coffee-producing hill station is located amidst the mountains in Karnataka with a misty landscape and is definitely your place if you are a nature lover. Coorg is famous for Abbey falls, Brahmagiri peaks, Irrupu falls, Mandalpatti Viewpoint and not to forget Nagarhole national park.
Of all the places to visit in Coorg, the wildlife sanctuaries are the most fascinating if you are with a loved one or on a family trip. Capture an elephant on your camera and if you are lucky then a panther too. So go ahead and plan your trip to the 'Scotland of India'.
2
Khajjiar, Himachal Pradesh
The hills and valleys of Khajjiar in Himachal Pradesh
Often referred to as 'Mini-Switzerland of India', Khajjiar is a small town near Dalhousie which provides tourists with a unique combination of forests, lakes, and pastures. Located at an altitude of 6,500 feet, the natural beauty and amazing landscape of this place are bound to leave an unforgettable impression on the tourists.
Khajjiar is known for its nine-hole golf-course which is situated in the midst of greenery and a magnificent landscape. It also has a small lake (Khajjar Lake) which is one of the most favoured tourist spots in this town.
Tea plantations in Munnar
The ideal hill station, Munnar is famous for its tea estates, exotic lush greenery and craggy peaks. It is located in the Western Ghats, in the state of Kerala. It serves as the commercial centre for some of the world's largest tea estates.
Munnar has the biggest tea-plantation area in South India. You can also visit Mattupetty Dam, Kundala Lake, Eco-Point, Rajamalai (Part of Eravikulam National Park).
Also read: Refreshing hill stations in India to visit during summer
4
Valley of Flowers, Uttarakhand
A gorgeous expanse of 87 square kilometres in the Chamoli District of Uttarakhand this Valley of Flowers is set behind the majestic Zanskar Ranges just reflecting the fairyland you have been thinking of. It is a place where nature blooms with its entire charm & pride and can be viewed by a slightly long but lovely stroll.
Among the flowers, you can witness the cascading waterfalls and small streams. You can also visit the wildlife in the national park and enjoy witnessing creatures like Lime Butterflgreyray langur, flying squirrel, Himalayan black bear, red fox, Himalayan weasel and more.
Ziro is a quaint old town in Arunachal Pradesh, home to the Apa Tani tribe and famous for its pine hills and rice fields. The climate in Ziro is mild throughout the year, making it really comfortable for tourists all the time. Culture & people of Ziro are known for their colourful and vibrant clothes.
If you get time try shopping for beautiful clothes to add to your collection. Ziro is famous for bamboo items, like bamboo baskets, handlooms and locally made handicraft items.
Now if you feel like really crazy about these astonishingly scenic places of India, do read about these best spiritual places in India.
People generally say "I am so deathly afraid of losing a friend, a job, family" and they torture themselves daily fearing the future. So crack that myth and redefine your theory of winning, and witness how beautiful it is to lose yourself in nature!