India is known for its rich and diverse culinary traditions, but one of its most iconic foods is enjoyed throughout the country. Almost every region in India has its own version of the biryani, and there are over 26 types of biryani in India.
Biryani is thought to have come to India via Arab traders and the Mughals, but the exact origin of the dish is unclear. What we do know is that this delicious mix of aromatic rice, spices, and meat has stood the test of time.
Here Are 15 Types Of Biryani You Have To Try In India
Hyderabadi Biryani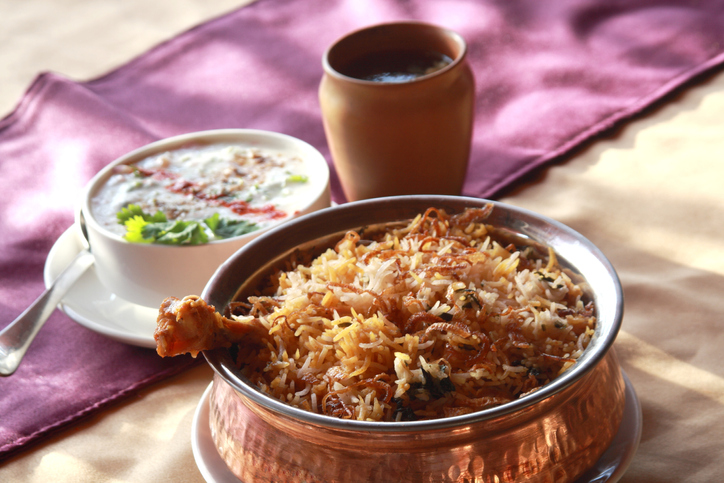 One of India's most famous biryanis, Hyderabadi Biryani is believed to have originated from the kitchens of the Nizams. It is made with basmati rice, spices and various types of meat. There are various forms of Hyderabadi biryani, and one of the most popular is the dum biryani where the meat is marinated and cooked with the rice in a dough-sealed earthen pot over a charcoal fire.
Bombay Biryani
In Mumbai, you can find the mild but delicious Bombay biryani. It is usually made with chicken or mutton, as well as fried and spiced potatoes. What is unique about this rice dish is the addition of kewra water and dried plums that give it a distinctively sweet and tangy flavour.
Thalassery Biryani
This biryani comes from the Malabar region of Kerala, and is also known as Malabar Biryani. It uses a small-grained thin fragrant variety of locally grown rice known as Khyma or Jeerakasala, as well as Malabar spices, meat, fried onions, ghee, cashews and raisins, and is known for being both sweet and spicy.
Awadhi Biryani
Also known as Lucknowi Biryani, this dish is unique because of its cooking style. The marinated meat (or chicken) is cooked and flavoured separately from rice with spices, saffron, star anise and cinnamon. They are then layered together in a handi and cooked together resulting in a mild yet flavourful dish.
Bhatkali Biryani
Bhatkal in the coastal regions of Karnataka brings us this delicious biryani that is a speciality of the Navayath cuisine. It is said to originate from Persian traders to the region. Bhatkali biryani has a unique spicy and heady flavour that comes from the meat, which is cooked with onion and green chilis before being layered with rice.
Tehari Biryani
While most traditional biryanis are made with meat, Tehari biryani is a vegetarian version. It is said to have been created for the vegetarian Hindu bookkeepers at the Mughal court and is made with potatoes instead of meat.
Delhi Biryani
Delhi was the capital of the Mughal Emperors, and various parts of the city have their own styles of biryani, such as Nizamuddin biryani and Shahjahanabad biryani. The best biryani can be found near mosques and in the city's oldest shopping districts.
Ambur Biryani
Ambur (or Vaniyambadi) biryani is a type of biryani that comes from the Vellore district of Tamil Nadu. The meat is marinated in yoghurt and added to cooked seeraga samba rice along with dried chilli paste and whole spices. It is often accompanied by a brinjal curry, ennai kathirikai.
Kalyani Biryani
Kalyani biryani is said to have originated in Bidar during the time of the Kalyani Nawabs. It is also sometimes known as the "poor man's' Hyderabadi biryani" as it has the same richness and taste, but without the expensive ingredients. Kalyani biryani is usually made with buffalo meat and an array of spices, coriander and tomatoes, making it flavourful and tangy.
Calcutta Biryani
Calcutta or Kolkata biryani evolved from the Awadhi style when Lucknow's last Nawab Wajid Ali Shah was exiled to the city in 1856. The rice is flavoured with rose water and saffron that give it a yellowish colour, while the meat is marinated using nutmeg, cinnamon, mace along with cloves and cardamom and is layered with soft boiled eggs and potatoes which creates a light and unique flavour.
Beary Biryani
A speciality of the Beary Muslim community in coastal south Karnataka and is also known as Manglorean-style biryani. The dish is made using lots of green chillies and coconut and has the subtle flavour and aroma of fennel. The rice and meat (usually chicken) are cooked separately and then layered and slowly cooked together again.
Sindhi Biryani
Originating in Sindh province (now a part of Pakistan), this type of biryani is made with basmati rice, vegetables and various spices as well as chopped chillies, mint and coriander leaves, onions, nuts, dried fruits and yoghurt. This is then topped off with plums and potatoes.
Memoni Biryani
From the nearby Gujarat-Sindh region comes the spicy Memoni biryani. Developed by the Memons, it is made with lamb, yoghurt, fried onions and potatoes. Unlike regular Sindhi biryani, it uses fewer tomatoes and less food colouring, which allows the rich colour of the meat and the spices to show.
Chettinad Biryani
From the famously spicy Chettinad cuisine of Tamil Nadu comes Chettinad biryani. It is made with aromatic seeraga samba rice, along with coconut milk, cashew nuts, meat (usually chicken), spices and ghee. It is also often accompanied by a spicy and tangy goat meat gravy, nenju elumbu kuzhambu.
Dindigul Biryani
From the town of Dindigul in Tamil Nadu comes the popular Dindigul Biryani (also called Thalapakatti biryani). Like Chettinad biryani, it is also made with the local seeraga samba rice, which is mixed with cube-sized pieces of mutton or chicken as well as yoghurt, pepper, and lemon juice that gives it a uniquely strong and tangy flavour.
Also Read: 16 Mouth-Watering Indian Desserts You Have To Try
So, which of these types of biryani from India have you tried? Let us know in the comments below.