Would you also like to be surrounded by the dynamic landscapes and thriving flora and fauna of awe-inspiring peaks? The sights and sounds you experience along the vast trails of the magnificent mountain ranges will speak to your very soul. These geological formations vary in size, shape, and even colour are spread across different continents; inspire people to develop a deep connection with nature. So, if you have been daydreaming of exploring incredible mountain vistas and glacier peaks, here are 7 impressive mountain ranges that you can add to your bucket list:
Winter snow biking on the Canadian Rocky mountain route
This massive cordillera made up of more than 100 separate mountain ranges is home to 5 beautiful national parks and stretches from Alberta and British Columbia to New Mexico. With gorgeous lakes, snow-topped peaks, rivers and forests, the Canadian Rockies are a photographer's and a hiker's dream. The name the Rocky Mountains stems from the fact that the mountains are composed of limestone and shoal, and hence, are a perfect example of a natural paradise.
2
The Himalayas, India & Nepal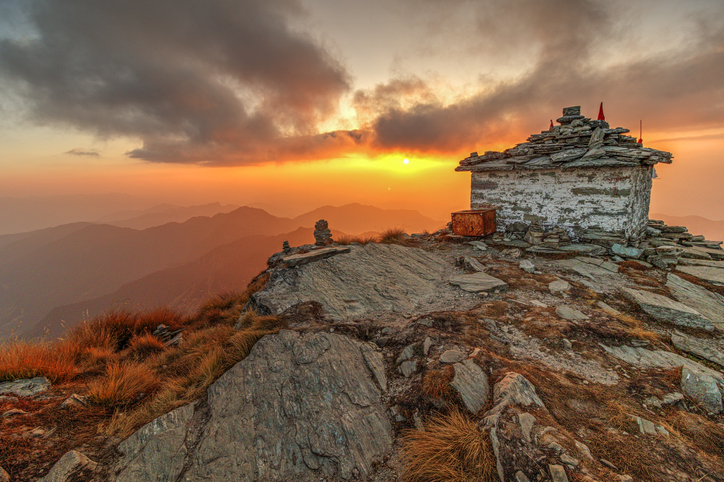 Sunsets on the Beautiful Chandrashila Temple in the Himalayas of India.
The Great Himalayas are home to the tallest peaks on Earth, 50 of them exceeding 23600ft above sea level (obviously including the Mount Everest with an elevation of 29,035 feet). Along with the Karakoram and the Hindu Kush mountain Ranges, this belt is the largest and the most diverse mountain range in the world. Located in Southern Asia and forming a barrier between the Tibetan Plateau and India, the Himalayas have profoundly shaped the cultures of South Asia.
Also Read: The Top 8 Summer Himalayan Treks In India For You To Choose From
Stretching all the way from Italy to Slovenia, the Alpine region of Switzerland (conventionally referred to as the Swiss Alps), is the most prominent physiographic region in Western Europe. Some 1,200 kilometres long and more than 201 kilometres wide at their broadest point between Garmisch-Partenkirchen, Germany, and Verona, Italy, the Swiss Alps provide a romantic setting like no other. Experience the dramatic peaks of Dammastock, the snow-clad majestic summit of Matterhorn and famous Swiss cheese and chocolate here.
4
Andes Mountains, Chile & Argentina
The Inca railway with its view of the Andes
Being the longest continental mountain range in the world, the Andes Mountains extend from north to south through seven South American countries: Venezuela, Colombia, Ecuador, Peru, Bolivia, Chile and Argentina. It is a continual range of highlands extend along the western coast of South America and are split into an eastern and western range. Don't miss the epic Machu Picchu trek through deep snow and lush forests while you are there!
Also Read: Top 11 Things To See In Cusco, Peru
5
Sierra Nevada, United States
Lights at night in snowy hills in the Sierra Nevada
Running along the eastern edge of California and overlapping into the neighbouring state of Nevada in some areas, this mountain range is richly steeped in American folklore and history. It stretches 400 miles (650 km) north to south and is approximately 70 miles across east-to-west. Surrounded by California's Central Valley in the west and by the Great Basin in the east, this major mountain range also home to a variety of National Parks, National monuments, watersheds, rivers, alpine lakes (Lake Tahoe) and a plethora of communities interspersed in between. These areas include Yosemite, Sequoia, Kings Canyon National Parks, and Devils Postpile National Monument.
6
Dolomite Mountains, Italy
Looking up the slopes from the ski lift. Beautiful sunny day perfect for skiing. Dolomites, Italy, Mountain Ranges
Located in Italy, the Dolomites are unique among mountain ranges.  Jutting straight up, chimney-like, in surprising towers, spires, and pinnacles, it offers surreal natural visuals for the visitors. It's not just the hikers that are attracted to this natural wonder. There are many adventure activities such as base jumping, skiing, hiking, cycling and mountain climbing, making it a very popular destination for non-hikers as well.
7
Tien Shan, China- Kyrgyzstan
Located in the border region of Kazakhstan, Kyrgyzstan and the Xinjiang Uyghur Autonomous Region of western China, Tian Shan mountain range is home to some of the tallest mountains in Asia. It was formed a long time ago as a direct consequence of the collision of the Indian mainland with the rest of the Asian continent. Also known as the Celestial or Heavenly Mountains, Tian Shan stretches about 2,500 km from west-southwest to east-northeast.
Explore these breathtaking mountain ranges and do let us know about your experiences below!